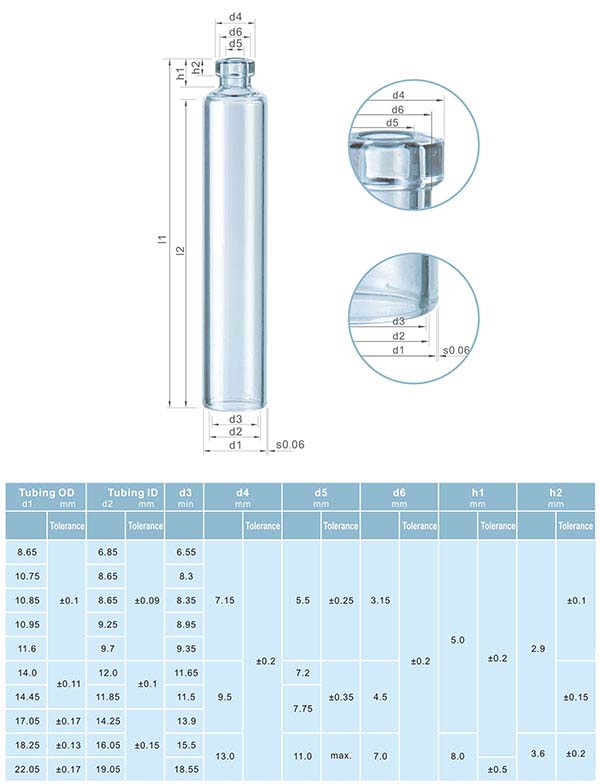 Organic silicon coating
Silicification is used to improve the performance of pharmaceutical glass containers.By introducing the chemical stability of the medical emulsified silicone oil makes the glass bottle hydophobic,reducing the residual on the wall of the glass bottle and avoiding the waste of medicine.Can reduce the cost of drug companies.Suitable for special agents such as suspensions,protein absorption drug injectioins.


Inorganic silicon coating
Using a special process to form a layer of ultra-thin and dense uniform silica film on the inner wall of the glass bottle,using the high flexibility of the thin film of pure silicon to seal and shield,ensure the stability of the pharmaceutical,and prevent alkali lions from being precipitated in the glass.Improve drug compatibility.

Ready to Use vials and catridges
Seek new manufacturing solutions in the pharmaceutical industry,increase flexibility and quality,and shorten time to market.While reducing operating costs(WFI,electricity)and increasing profits.The ready to fill glass containers minilize pharmaceutical company cost pressures and avoiding the demand for clean room space in the context of outsourcing non-nuclear clean rooms.Thanks to the speical design of glass to glass non-contact packaging material,the quality is higher than that of bulk configuration,which ensures the apperance quality and at the same time reduces the damage.Combined by nestboard and the nest tub.You will be able to efficiently place multiple nest tubs on the same machine.Simplify lyophilization and conveniently place the nest tubs into the freeze dryer without the need for additional loading tools.After the porduct is cleaned,it is placed in a nest tub covered by Tyvek sheet and sealed by Tyvek lid.Finally ETO sterilized after the bags packedy into cartons.